Rocky Mountain National Park, Colorado
June 28 - July 4, 1997
Well we have returned from a glorious 6 day 5 night backpacking adventure into the remote Never Summer Range in Rocky Mountain National Park! Can you say FANTASTIC!!!! The weather was unbelievably perfect, the scenery was magnificent, the company was a hoot :)
The plan was to leave DFW on American Airlines at 8:00am on Saturday morning, June 28th. 4 of us were to catch the Super Shuttle from Texins to make the trip to DFW, while two of our party had made other arrangements to the airport. Our "Blue Bus"(Super Shuttle Bus) was very late in arriving on Saturday morning so we contacted Super Shuttle. It seems the driver was having difficulty at his first stop and would be even later yet! So we decided that rather than jeopardize the trip, we would drive ourselves to the airport and park in the reduced rate area(Ha! what a joke. Reduced from what!) Anyway we made it fine, and Paula Thurston, Ray Aldridge, Tom Slater and myself met up with Eric Evans and Jay Jahangiri at the airport terminal. Everyone was excited and ready to go. The flight went well and we arrived in Colorado Springs right on time.
We rented a minivan and it worked out great for the 6 of us. We decided to stop by the Garden of the Gods in Colorado Springs before departing for Rocky Mountain National Park, since we did not need to be there until late that night. It was a really cool place with all of the unique rock formations, but I guess I was a little let down after all of the hype I had heard about it. Worth the visit though.
We headed up I-25 toward Denver and on up to Estes Park where we would enter into Rocky Mountain National Park. Our first night was spent at the Glacier Basin campgrounds near Bear Lake. Really nice for campgrounds :) The reason for the stay was to help us acclimate to the very high altitude before we would head out on our 6 day trip and because we would get to the park late in the day, too late to attempt the trip to our 1st backcountry campsite of Box Canyon in the Never Summer mountain range. The Never Summer mountain range gets its name from the fact that it is never snow free. We were to see first hand just how much snow remained shortly :)
On Sunday morning, June 29th we awoke early so that we could get to our first back country campsite during the daylight hours. The trip over to the Colorado River trailhead from our campgrounds was about a one hour drive, which put us on the trail at around 11:00am. The first 3 to 3.5 miles were very smooth and easy, but oh the last 3 were brutal :( We did not arrive at Box Canyon until 5:30pm that night! I told everyone before we left that the last half of this trail was a real killer, but saying and actually experiencing it was something else entirely! The altitude was 10,500ft here at Box Canyon. The campsite was at the intersection of the Box Canyon Creek and another creek that slips my mind this morning. A series of beautiful cascades were just above and provided a picturesque backdrop to the meadow that was just in front of our campsites, on the other side of the creek. This was starting out to be a magical trip already!
When we finally arrived we were faced with plenty of snow in the camping areas. We managed to fit all of the tents on the limited dry space that was there, but Ray and Jay decided to sleep on the snow for the first night. I have done this before and decided to pass :) We all turned in early on this night.........creaking bones could be heard well into the night.
On Monday morning we had planned to head up the trail toward Thunder Pass, which was situated at 11,330 ft, and then head over to the Michigan Lakes(3 high altitude lakes). But when we got to the pass we decided to first try to climb up Mt. Lulu, some 1,000 ft higher than Thunder Pass. We started our climb, but quickly felt the altitude and elevation gain that was before us. The loose talus slopes made footing treacherous and the going very slow. We reached a knoll about 300 ft up the mountain and considered returning to the pass as the winds were very strong and the temperature was quite cool. We snapped a few photos and then we decided that maybe we could skirt the mountain on the windless side a little bit higher yet. As we inched our way around the back side of Mt. Lulu, we were really feeling the altitude now. Slowly we continued up, and we eventually would summit! Not the highest mountain by any means, but an accomplishment for me and everyone else! We stood on top the peak and soaked up the vistas of the not too distant snow capped perches which surrounded us here in the Never Summer range and took many photos. We could locate our campsite from up here also! Another great moment on this trip. The one negative to 5 of us(the males in this group) was the fact that Paula absolutely smoked us up the mountain! This gals feet never touched the trail the entire trip! My hat is off to Paula for showing me that male arrogance is better left at the trailhead :)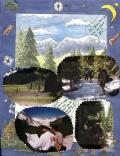 We headed down at around 1:00PM back to Thunder Pass. Now we decided to go ahead and attempt to reach the Michigan Lakes, our original destination. The lower two lakes were relatively easy to get to as we only had to cross some snowfields to reach these, but the upper and biggest lake would require some effort as it was up a steep bouldered slope covered with snow. Ray Aldridge and myself were the first to try to do this and as we ascended the slope, everyone else followed slowly. Wow what a climb! Once we reached the upper lake we were greeted to a picture out of heaven :) The lake was situated in a cirque which was still snow covered on all slopes and the lake itself was still frozen over solid. I could have only asked that it would have been partially thawed, as the ice had the characteristic blue/green aqua color that glaciated high altitude lakes have. Well worth the effort to get up here!

On our way back down from this upper lake, I decided to try my hand(or should I say my rear :)) at glissading(sliding down a snowfield on ones bottom). Now this was very cool!!!!! I was not completely down the first snowfield it seemed before Paula was right behind me! Jay was next and Eric would follow shortly after. We all were having a great time with this new found mode of descent! We slid down the next snowfield and then started back toward the Box Canyon campsites. What a great day in the wilderness this had been for everyone! That night the new card game, Rocky Mountain Rummy was created by Eric and Jay while they were whiling away the remainder of the daylight. It was a big hit!
On Tuesday morning we would head toward the area known as Little Yellowstone Canyon, a few miles to the East of us. This was a rather unique spot with some really neat geological formations to view. We ate and took a few pictures while we hiked around the canyon area. Well worth the effort to see for sure. On our way back we decided to head further east, over to the La Poudre Pass, another 3.6 miles away. We hiked on the Grand Ditch road, which was well manicured as it was a service road for the people that take care of this irrigation system. It was really surprising how well the ditch did not detract from the natural beauty of the area.....it actually looked like it belonged there for the most part, other than the dirt road that we were hiking on. This was a long day too, as we wound up hiking around 10 miles all told. The weather was very cool and windy, making the wind/raingear a necessity!

On Wednesday we packed up camp and headed off for our last campsite some 4 miles away at Hitchen's Gulch campsites, again at an altitude of 10,500ft. This was a wonderful campsite situated next to a beautiful stream that cascaded down within a few feet of our campsite. The rush of water and the way it babbles as it cascades down is so serene and soothing to me........oh I wish I were still there right now :)

We reached Hitchen's Gulch early on Wednesday so we took advantage of the good fortune and proceeded to explore the upper mountain area above our campsite, which headed up toward the Lake in the Clouds. We scrambled across numerous boulder fields, crossed a number of snowfields before we arrived at the base of the slope which held the Lake in the Clouds far above us. It would be a tough climb and one that I felt would need an ice axe at the very least to attempt safely. We decided to return to our new campsite for the evening.

This night we would all cram ourselves into one small dome tent and play the newest created card game on this trip, Rocky Mountain UNO! Picture 6 adults shoehorned into a 3 person dome tent playing cards. It was a riot!!! We laughed so hard that we were crying at times. The quality of the members that were on this trip can not be over emphasized. It was a fantastic evening between new friends.

On Thursday morning we all awoke and were greeted to 5 elk grazing just above our camp on the steep slopes of Mt. Howard. A real treat to behold in their natural environment. After breakfast, Eric, Tom and Ray decided to go back up toward the Lake of the Clouds to see if they could find a safe route up to the lake. Paula, Jay and I decided to try to climb up Mt. Howard. Both groups would be stopped short of their goals due to the technical nature of the climbs as we each approached the top.

Paula was wanting to glissade down from the upper reaches of Mt. Howard which caused me great concern. She is about as adventurous a person as I have ever meet for sure! She decided to save me from a coronary, and abandoned the glissading from the 12,000 ft elevation. If we would have brought ice axes I would have been OK with the act, but it was a long way down a very steep snowfield, which was strewn with boulders at the base. We did have some more sane glissading races once we reached the lower elevations just above our campsite. Paula, Jay and myself made three trips down our racetrack before heading back to camp. This was another great day on this trip! Did I say this was an absolutely terrific trip!!!

We all played another round of cards in the little dome tent again this night(Paula's Casino) and once again managed to have a wonderful time. I could not have dreamed a better trip than the one that I was now in the midst of living!
On Friday morning, July 4th we packed up the camp and bid farewell to this wilderness home that we had all enjoyed. Paula did not want to leave and I must say that it tugged at me hard to stay just one more day. We got out safely and headed into Estes Park where we would spend our final night in a local campgrounds, Mary's Lake Campgrounds. It was not the same, but it did have hot showers :)
After everyone got the 6 days of dirt, sweat and grime scrapped away, we headed to get some real food! Pizza Hut was the first place we saw and that was where we would eat! Ray, Jay and myself each ordered medium pizzas for ourselves and Paula, Tom, and Eric all split two larges. The waiter was bewildered as he continued to deliver pizza after pizza to one table! There were only table scraps left when we exited the restaurant :)
We then headed into the heart of Estes Park to do some shopping. We strolled the streets, ate ice cream and acted like tourists until it was time to head over to the Estes Park Lake for the evenings fire works extravaganza. It was a great show and the commentary from a local gentleman behind us was very special! The clinching one liner from him would be "God Bless America Baby"!!!! It was truly a very moving moment for all present :)
Saturday morning we decided to make one last shopping trip into Estes Park and eat some breakfast before we left for Colorado Springs Airport. During breakfast the group gave me a bandana which had a topographical map of Rocky Mountain National Park on it and each person signed their names along the edges........I was very moved by the gesture to say the least. It was one of the most special gifts that I have ever received.
My memories of this trip are ones that will always bring a lump to my throat when I recall the camaraderie, this perfect place and the perfect weather that 6 new friends enjoyed for a week out of their lives.
Thanks for sharing them with me again!
Michael Mastin