Cactusfest99 - The Year of the Reptiles
Santa Catalina Mountains, Tucson, Arizona
March 18, 1999 - March 22, 1999
Thursday, March 18, 1999
Today I departed from Nashville, TN in route to Phoenix, AZ via Dallas, TX. In Nashville, we were informed that our airplane had developed cowling trouble that required maintenance, so, our departure would be delayed by one hour. When we finally took off, the flight crew did all that they could to race us over to Dallas, but that still didn't prevent my fidgeting - I still had to make a connecting flight to Phoenix. I was relieved when the flight attendants told us, on our approach, that all of our connecting flights were being held for our arrival. Time passes - Ten minutes later, on the tarmac, the flight attendants again told us that all connecting flights had LEFT. Needless to say, a lot of angry passengers left that plane; some were fighting mad and making a scene! I just shrugged my shoulders and asked "what next?" American Airlines provided a nights stay for us at the DFW Hyatt Regency and they re-booked our flights. I still was forced to cancel/re-book my other reservations and, more depressingly, I was stuck, once again, in Dallas, TX, a town/associated wasteland that I joyfully left only 8 short months ago. Oh well, I made the best of it; it was kind of fun to see the old TV stations and hear the old radio stations for a few hours.
Friday, March 19, 1999
I left Dallas this morning and flew to Phoenix. I secured my rent-a-car and proceed down I-10 toward "Old Pueblo." Southern Arizona was experiencing a drought this season and Tucson had only received a trace of rain since 1998. The dead grass/shrubs on the highway median and shoulders sort of reminded me of Dallas in the summertime less all of the concrete. At least there were mountains and interesting vegetation to look at as I drove. I also listened to interesting discussion on the negative effects of jealously on the radio. There is definitely something to be said for living contently. When I arrived at Tucson, I went to one of the local outfitters to purchase topo maps of the Santa Catalina and Rincon mountain ranges. I can never keep these maps from one year to the next. At night, I went to see the Colorado Rockies play the Arizona Diamondbacks in a spring training matchup. I knew it would be a long night for the Diamondbacks when I saw their starter throw his first warm-up pitch. What disgusted me most about the game were the spectators and their cellular telephones. I thought, "It's a sad day when you can't enjoy America's past time without a telephone strapped to you." The Diamondbacks were trailing 4-0 in the increasingly chilly desert air when I left for the motel in the sixth.
Saturday, March 20, 1999
I decided today to hike the Esperero Canyon trail in the Santa Catalina Mountains. The trail, which eventually reached Window Peak (a window shaped rock formation at the top of the Catalinas), features a few small desert pools, a waterfall, and great views of the Front Range and Tucson.
I filled up my hydrocell with a gallon of water, slathered SPF 36 sunblock on my skin, draped a bandana over my neck, and away I went. The first part of the trail ascended and then descended through Rattlesnake and Bird Canyons. Typical desert shrubs and saguaro and prickly pear cacti flourished here. At one point, I mistakenly got my fingers too close to the joints of a cholla cactus and paid dearly. A kludge surgery job removed the larger spines, but, a few of the small spines were embedded deeply - souvenirs that I was forced to take back with me to Nashville.
Traveling through Bird Canyon I met a group of people and asked one person in the group how far they had gone up ahead. They had only climbed to Cardiac Ridge for a view of Esperero Canyon. I told him that I was traveling toward Window Peak and his only reply was "Get ready for a long day!" As I exited Bird Canyon and started ascending some nasty switchbacks, I soon knew how Cardiac Ridge had acquired its unofficial name. The winter hiking lull had put me on the wrong side of 200lbs by a few pounds and I was feeling the effects. As I was catching my breath, a couple of ladies passed me and we exchanged greetings. I finally made it to the top of Cardiac Ridge after some hard climbing and the view into Esperero Canyon was awe-inspiring. You could definitely make out where all of the water had congregated in this canyon this year.
After taking a few photos, I continued along the trail as it descended down into Esperero canyon. Manzanita trees, desert trees having a smooth, deep mahogany-colored bark, were prevalent in the canyon and provided some needed shade. White, water-polished boulders littered the trail in a lot of places. The only water that I saw was confined to a small, stagnant, brown-colored pool with a collection of wasps hovering above it. Hydrocell don't leak on me now! I traveled up the canyon for a few more miles until I stopped at Bridalveil Falls. I met the two ladies that had passed me earlier there and they assured me that the small trickling of water falling from the column of rocks above was indeed the falls. I looked at the scene and wondered why I was so crazy to had climbed so strenuously in hot weather to see this. After thinking about it, I decided that any place that contained water in the desert, in the middle of a drought was a sight to behold. My final conclusion: I ain't the smartest or the dumbest!
I sat down in the BASE of the falls and started to eat my peanut butter lunch. I noticed that the two ladies were picking at their hands rather anxiously trying to remove prickly pear spines that they had picked up trying to bushwhack their way to the top of the falls. I offered them my tweezers and a magnifying glass from my first aid kit. After a few minutes with no success, I mentioned to them that my specialty was in "cactus spine removal" so they let me assist. These two ladies were originally from the Northeast and had only recently moved to Tucson. We talked for about 30 minutes about Tucson and the general status of America/Americans. The two women said their goodbyes and I remained at the falls for a time meditating.
My mid-afternoon descent from Bridalveil Falls was tiring and oppressively hot. I noticed that I was experiencing a few minor leg cramps along the way, probably heat related. I was impressed though that the Bullfrog sunblock and bandana had really done their jobs protecting me against the bright desert sun. Those summer days in Zion paid off, Mike and Eric. The only wildlife that I saw on the trail today was a few lizards and the ever-present black beetles. About 3 miles from the car and seven and a half-hours into my trip, I drank the last of my gallon of water. Now, it was really tough to get back, but I finally did make it back to the car and water. I now know the reason why all convenience stores and major fast food chains market MEGA-sized soft drinks.
This had been a particularly interesting week in my life. I started out on Sunday walking in a Nashville snow shower trying to keep warm and catching snowflakes in my mouth as they fell and ended up on Saturday walking in the hot, dry Tucson desert trying to get back for a drink of water. Life is good!
Sunday, March 21, 1999
I woke up today not as sore as I thought that I would be. It was another hot day in Tucson with the temperature again in the upper eighties. About 2:30 in the afternoon, I decided to hike along Pontatoc Ridge in the Santa Catalinas, a ridge known for it's steep drop-offs and old abandoned mine.
The trail started at the Finger Rock trailhead and followed the Finger Rock trail for a short time until it branched to the right over a small hill. This trail meandered up and down across a few drainages until it forked into the Pontatoc Canyon trail and the Pontatoc Ridge trail. I took the Pontatoc Ridge trail and ascended to the ridgeline dodging cacti and yucca type plants along the way. Once on the ridgeline, the trail became harder to follow; a few carefully placed rock cairns helped me to continue. The winds started to blow for the first time this trip playing havoc on my cap-bandana sun-shield. I stopped briefly to secure it to my shirt amid an impressive stand of teddy bear chollas.
At about the 1:45 mark, I made it to Pontatoc Saddle for a fantastic view of the city below. This area contained a marker where a sign had once been. As I kept on climbing, my guess was that the sign once said the trail was getting steeper and more dangerous.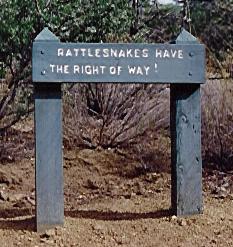 A few minutes later I passed to the left of a boulder on the trail and suddenly noticed a sound that sounded like a baby rattle originating from beside me. There wasn't a brunette lady and baby in my hiking party today, so, this sound had to be something else. My split second ascent of another 8 feet of trail clued me in! Yes, a rattlesnake had just buzzed me and he was ready for action! Not wanting to disappoint my trail companion, I proceeded to play a game of catch with the rattler. "Boy, these critters sure don't like it when you throw rocks at em!" J The sneaky one finally went on about his business and I went on up the trail for a few more minutes until the footing on the trail became treacherous and health threatening.
Armed with stones for any remaining reptiles, I returned the way that I came. I didn't see anymore snakes, but did see a pretty big gecko lizard. These lizards are excellent mountain climbers; they leave you behind laughing at you. I wasn't extremely jealous, though, knowing now that I could also move pretty fast when I had to!
Mental note: bring the snakebite kit next year; it ain't that heavy!
Sunday, March 22, 1999
Got up this morning and visited some more desert nurseries around town. I hope all these new cacti will enjoy their new Mississippi home. I left Tucson around noon and drove back to Phoenix to catch my flight back to Nashville. On the plane, I noticed that this trip had played havoc with my Super Hikers. The sharp rocks had added a few more scratches to the uppers this year and the stitching on the left side of one of my boots had become unstitched and was in need of repair. Wait a minute, that snake was perched just off to my left - No, he just couldn't have!!!